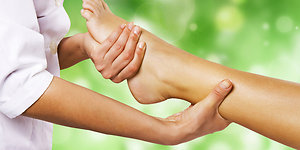 Foot Care Treatments
Essentials Foot Care Session/ All New Patients from £48
Whatever you need treating within the time we have! Nail cutting, hard skin removal, corns and callus treatment etc. First appointment will include a full foot health check and consultation, treatment as required, relaxing foot massage and aftercare advice. Please note - more than treatment/s may be required to address long term conditions.
Allow 45-60 minutes.

Routine Nail Cutting and Care
from £35
(Toenails cut, shaped and smoothed, general hard skin removal and finishing with a nourishing foot massage)
Add-on mini manicure £15 (nail trim shape and file, cuticle treatment, nourishing oil application and hand massage)
NB New patients, please book the Essentials treatment as detailed above.
Home visits within Woodbridge IP12 area
From £55 per visit
Treatment includes everything that I need to do to treat your feet and leave them feeling fresh and healthy within one hour; such as routine nail cutting and cuticle care, removal of corns/calluses/ ingrown or thickened nails and verruca treatment, finished with a pressure point foot and lower leg massage.

The Medical Pedicure £65
A results driven luxury foot treatment to improve the skin's appearance and address common foot conditions such as corns, calluses, ingrown toe nails, fungal nails, peeling skin, cracked heels (fissures). Your first session starts with a full consultation to include medical history and dermatological and neuro-vascular assessments to assess general and foot health. Following a soothing foot soak and scrub to soften and exfoliate dry, scaly skin, I then trim and shape your nails, followed by basic cuticle work, hard skin removal, and a therapeutic foot massage. An optional natural nail polish can be applied or nails buffed .Or why not add-on some reflexology for the full mind-body experience. Further treatments may be required to address any problem areas.

The Transformational Footlogix Pedicure £52

A traditional luxury pedicure.
Delivering fast and long lasting results for a variety of skin conditions of the feet from simple dryness to more severe conditions resulting from lifestyle changes, Footlogix products are suitable for all the family no matter what age. Footlogix products are safe for use during pregnancy, cancer care and for diabetics. Your divine foot treatment begins with relaxing foot soak and scrub, followed by hard skin removal, nail cutting and cuticle work, foot massage and optional Mavala colour polish application.

Reflexology 45minutes £48 (includes herbal foot bath)
Add-on to main treatment £25